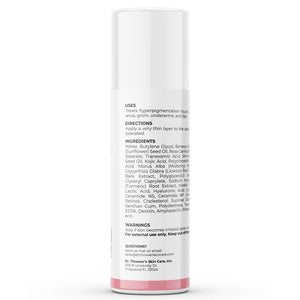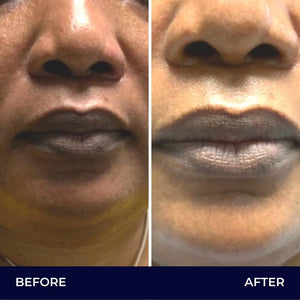 Intimate Glow | Advanced Sensitive Area Skin Brightener
All natural, powerful discoloration treatment for sensitive areas: lips, underarms, groin, and privates. 
WHAT'S IN THE BOTTLE?
A powerful skin brightening formula made with natural ingredients Tranexamic Acid, Niacinamide and Ferulic Acid, Kojic Acid, Rose Hip Seed Oil and Hyaluronic Acid designed to remove discoloration in sensitive areas. This hydroquinone-free advanced formulation is dermatologist developed for maximum results. Safe and natural, it will nourish your skin as it brightens it!
BEST FOR
This skin brightening powerhouse is best for those who are looking to brighten sensitive areas with a natural, hydrating cream. 
GOOD TO KNOW
No harsh chemicals, safe on privates, safe on sensitive skin, hydrating, skin nourishing, no parabens, lightweight. Only a small amount required, paper-thin layer when applying.

Dermatologist created and formulated, with over 25+ years of direct patient care. Tested, proven safe and effective! Made with natural ingredients.
*results may vary
---
WARNING: Some burning and stinging is normal on the initial application, but should subside quickly. If symptoms persist rinse thoroughly with water, discontinue for a couple of days. Then reapply along with our SOOTHING BODY CREAMY OINTMENT as a base to hydrate skin before application in those treated areas.
Active Ingredients: 

5% Tranexamic acid: a powerful ingredient that brightens skin complexion and improves the appearance of discoloration.
1% Niacinamide: water soluble vitamin B3 improves the skin barrier and helps reduce signs of past damage.