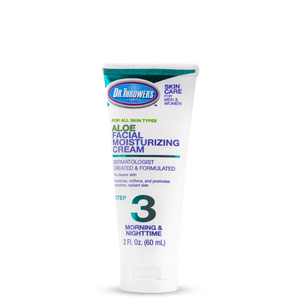 Aloe Facial Moisturizing Cream | Soothing & Replenishing
A moisturizing cream that offers total hydration and protection, for your face and can also be used to treat sunburn.
WHAT'S IN THE BOTTLE?
Like the name suggests, this cream contains aloe, which can help to soothe and moisturize skin. This natural ingredient helps to replenish skin, providing nutrients for a youthful and healthy glow. The cooling and anti-inflammatory nature of aloe also make it an excellent aide for sunburnt skin. 
BEST FOR
This cream is best for those with sensitive skin that can sometimes feel a little dry, but also great for normal skin and problem skin health.
GOOD TO KNOW
Nourishing, gentle, lightweight. For morning and nighttime use.
Dermatologist created and formulated, with over 25+ years of direct patient care. Tested, proven safe and effective! Made with natural ingredients.