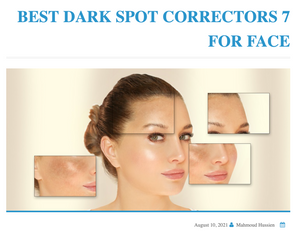 Our dark spot fade treatment was featured on Tajmeeli as one of the best dark spot correctors for the face, read the article here:
7 BEST DARK SPOT CORRECTORS FOR FACE
The appearance of dark spots on the face certainly causes severe discomfort, but the good news here is that this type of skin defect is easy to get rid of, all it takes is to find dark spot correctors of safe and reliable types, which work to lighten the affected areas in addition to achieving many health and cosmetic benefits Below, Tajmeeli presents some of the most important and best treatments. 
DARK SPOT FADE TREATMENT SOLUTION 1: FROM DR. THOWER'S SKIN CARE 
DR has developed THROWER'S To be one of the skin care products dedicated to getting rid of dark spots, the product relies on hydroquinone - approved by the US Food and Drug Administration (FDA) - which is 2% in its composition, which is reflected on the skin with many positives and health benefits, most notably:
Lightening dark areas of the skin.

Remove traces of acne scars.

Getting rid of stretch marks.

Contribute to the treatment of hyperpigmentation. 
The Dark Spot Fade Treatment Solution from Dr. Thrower's is one of the products suitable for all skin types, this product is available in 1 ounce (30 ml) bottles, its properties can be maximized by including it in your daily skin care routine by following the following:
It is preferable to use it after 

sunscreen products

 or moisturizing cream.

Put an appropriate amount of it on a piece of cotton.

Use a cotton swab to apply it to the centers of dark spots.

Leave on skin to dry in natural air.

It is recommended to use it in the morning and evening for best results.
 Read the full article here: