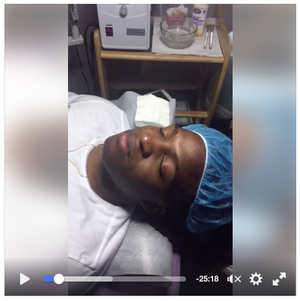 The Skin Lightening Facial Treatment, offered at Dr. Thrower's Medi-Spa, helps treat skin hyper-pigmentation. We have two intensity levels: one for mild to moderate skin resurfacing ($125) and one for moderate to aggressive skin resurfacing ($150). The degree of skin hyper-pigmentation will determine which facial you should get.
Here are the top skin tips from this video: 
When cleansing the face, working up a good lather helps to thoroughly cleanse the skin. Give your skin some TLC and really massage the cleanser in. You'll notice the difference!
Within the first 48 hours after getting a facial, try to avoid exposing your skin to extreme heat. This means you'll want to stay away from the sauna and keep the water cool when showering and washing your face.
Using an astringent or toner is key to your skin care regimen. It removes any remaining residue or dirt after cleansing, normalizes the skin's pH level, and tightens pores.
Massaging the skin helps to soften oil and debris trapped in pores, making it easier to remove.
Getting a facial every six to eight weeks is ideal for maintaining healthy, radiant skin. Think of it as a deep cleaning for your skin, above and beyond what you're able to do at home.
For more information on this skin treatment and others offered at Dr. Thrower's Medi-Spa, click here.