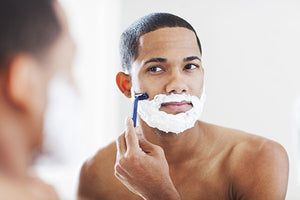 Razor bumps are a pain in the neck -- literally! And unfortunately, they are daily battle that many ethnic and Black men endure.
We've provided some background information on what causes the dermatological condition, also referred to as shave bumps, and how to prevent it.
Fortunately, sporting a beard isn't the only solution to avoiding razor bumps. You can cut down or eliminate this pesky issue by using the proper shaving techniques and dilegently following a skin care regimen before and after shaving.
Dr. Thrower's Shave Technique for Men
Quick Tips
Replace shave cartridge after 3-4 shaves.
Shave EVERYDAY at the same time to catch hair before the hair repenetration process starts, as shown in the photo below. 
---
Shop Products in This Post