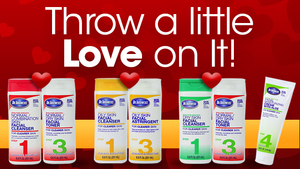 According to the National Retail Federation, only 55% of Americans celebrate Valentine's Day, but the ones who celebrate, really go all out!
I have to admit, when I think "February," I think "Valentine's Day." If you're a married man, you better be thinking about it! It's easy to be so focused on your Valentine's date, gifts or trips, you can easily forget yourself. A little pampering would be a great way to start the day. You might consider a gift for you or your loved one of a special spa or skin treatment. Look brighter, feel better and enjoy healthy looking skin.

As you know, it's easy to get carried away. How many drawers full of  "product" have you got at home? It's very common to grab the next promises the "Fountain of Youth" in a bottle.

How about, you throw a little love towards yourself this February? Instead of rummaging through your "product drawer" — keep it simple. Try one of our suggested "Perfect Matches" of a skin-type specific cleanser, for a brighter, even complexion that feels silky smooth and looks vibrantly healthy, then follow up with Dr. Thrower's Toner, that cleanses, nourishes, softens and revitalizes. Your mate will love it!
Remember, this year, "Throw a little Love on it", with one of Dr. Thrower's perfect matches!
— Normal Cleanser with Normal/Dry Toner
— Oily Cleanser with Oily Astringent
— Dry Cleanser with Normal/Dry Toner
— Use above with Aloe Facial Moisturizing Cream

 
The Perfect Match!
Save 25%
Sales ends Feb. 28, 2018

Happy Valentines Day